On January 20, we partnered with the National Right to Housing Network to have a conversation about lived expertise of homelessness and its impact on the right to housing in Canada–and why it's key to include lived experts as voices and leaders at the decision-making table. Watch the webinar below.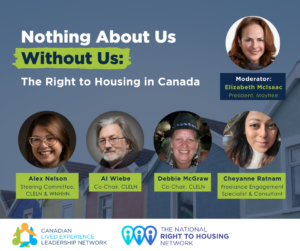 The Canadian Lived Experience Leadership Network (CLELN) and National Right to Housing Network's (NRHN) webinar, Nothing About Us Without Us: The Right to Housing in Canada, on January 20. We gained valuable insight from experts with lived experience of homelessness (i.e. lived experts, or first voice advocates) including Cheyanne Ratnam, Alex Nelson, Debbie McGraw, and Al Wiebe as they discussed the history and future of lived experience leadership in driving forward the right to housing in Canada.  
>> Access the full video recording of the webinar HERE << 
Be sure to share this recording widely, so that others can learn about the importance of centring lived experts in Canada's right to housing discourse and claiming mechanisms! 
Keep in touch!